Campaigns + events
Delhi EV Policy has been called the most progressive EV policy in India and among the best globally. It was well-received because it sets an ambitious vision for Delhi to drastically reduce vehicular air pollution to become one of the world's cities.
Events
24 August 2022
97 e-Bus Flagg-off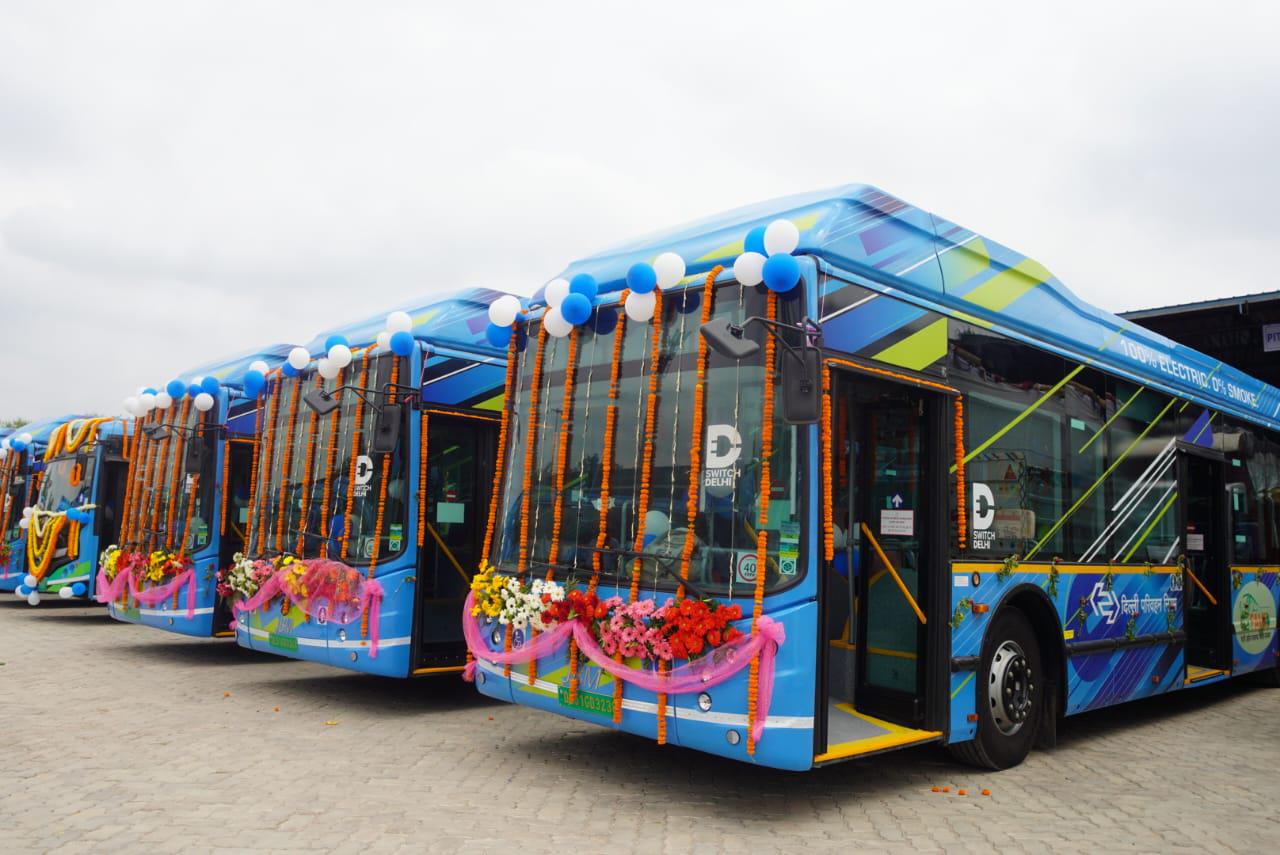 Delhi has increased its electric bus fleet to 249 as the national capital saw flagg-off ceremony of 97 more clean fuel public transport vehicles from Tata Motors inducted under Delhi Transport Corporation (DTC). With the flag-off of these electric buses, the overall number of buses in Delhi's fleet has increased to 7,300. The all-electric low-floor electric buses from Tata Motors comes with a length of twelve metres. These buses, which also has air conditioning facility, will offer 'state-of-the-art technology for sustainable, environmentally friendly and economical public transport. 
These e-bus offers space for 35 passengers. It is equipped with an electric motor which can generate an output of 245 kW. Each one of the buses is estimated to cut 0.33 million tonnes of PM 2.5 and PM 10 Carbon Dioxide (CO2) each in its life span of 10 years.
The new electric buses will have facilities like ramp facilities, panic buttons and space for wheelchairs. The new buses will also have dedicated pink seats for women passengers and a live video streaming for emergency situation and a fire detection and suppression system for fire safety.
Events
22 August 2022
4th Delhi EV Forum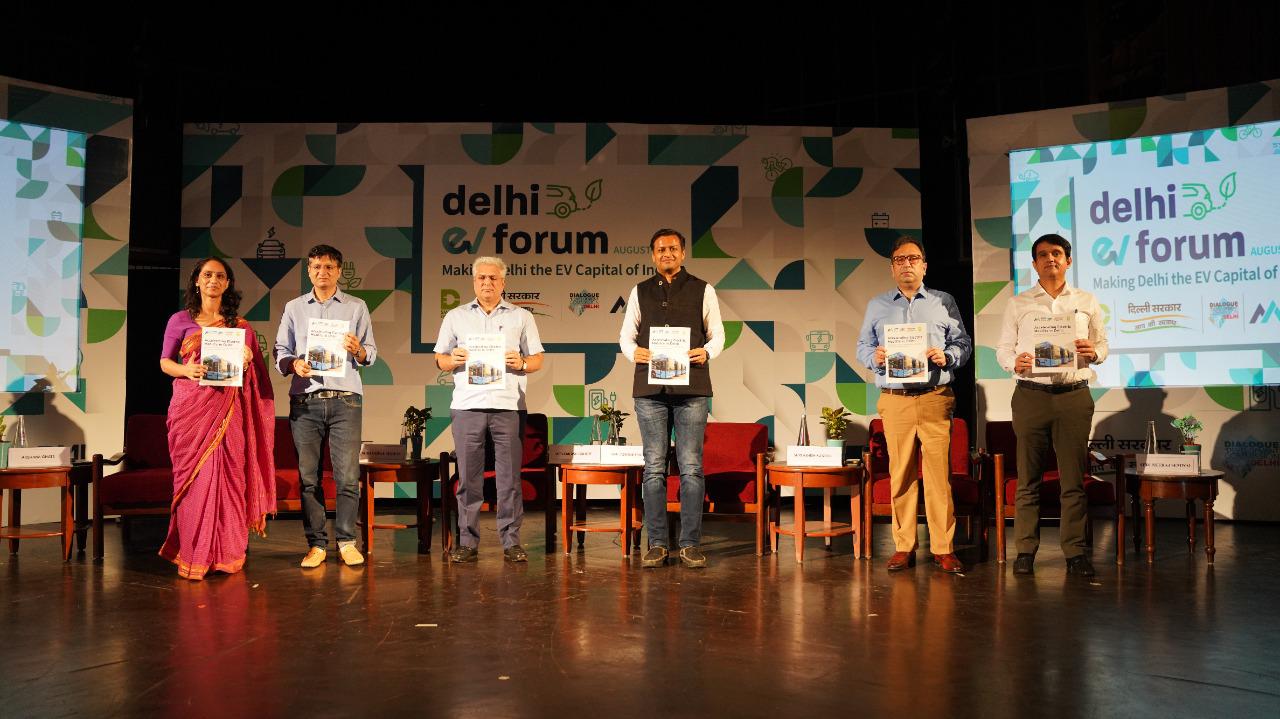 The Government of NCT of Delhi, launched the Delhi Electric Vehicles (EV) policy on 7th August 2020 with a vision to establish Delhi as the EV capital of India. Following the launch of the policy and its subsequent implementation, monthly EV sales in 2022 consistently averaged 10 percent of the total monthly vehicle sales, including a high point of 12.5 percent in March 2022. 
Over the past two years, the policy was operationalised clause by clause. As a result, GNCTD successfully operationalised about two-thirds of the 54 measurable clauses outlined in the policy, with the remaining 18 are under various stages of implementation. According to the implementation scoring matrix, Delhi implemented 83 percent of the Delhi EV policy.
Covering this progress a new report by Transport Department, DDC & RMI titled, 'Accelerating Electric Mobility in Delhi: Journey and Insights from Implementing the Delhi Electric Vehicles Policy' was launched.
This report documents the opportunities, challenges, solutions, and insights obtained through two years of rigorous, day-to-day policy implementation, which enabled the NCT of Delhi's march toward becoming the EV capital of India. It aims to disseminate the successful implementation of the Delhi EV policy and share its approach and learnings with states in India and around the world. Delhi's learnings from this journey will go a long way in strengthening the EV ecosystem and accelerating transport decarbonisation in India.
Events
24 May 2022
Flagging-off 150 E-buses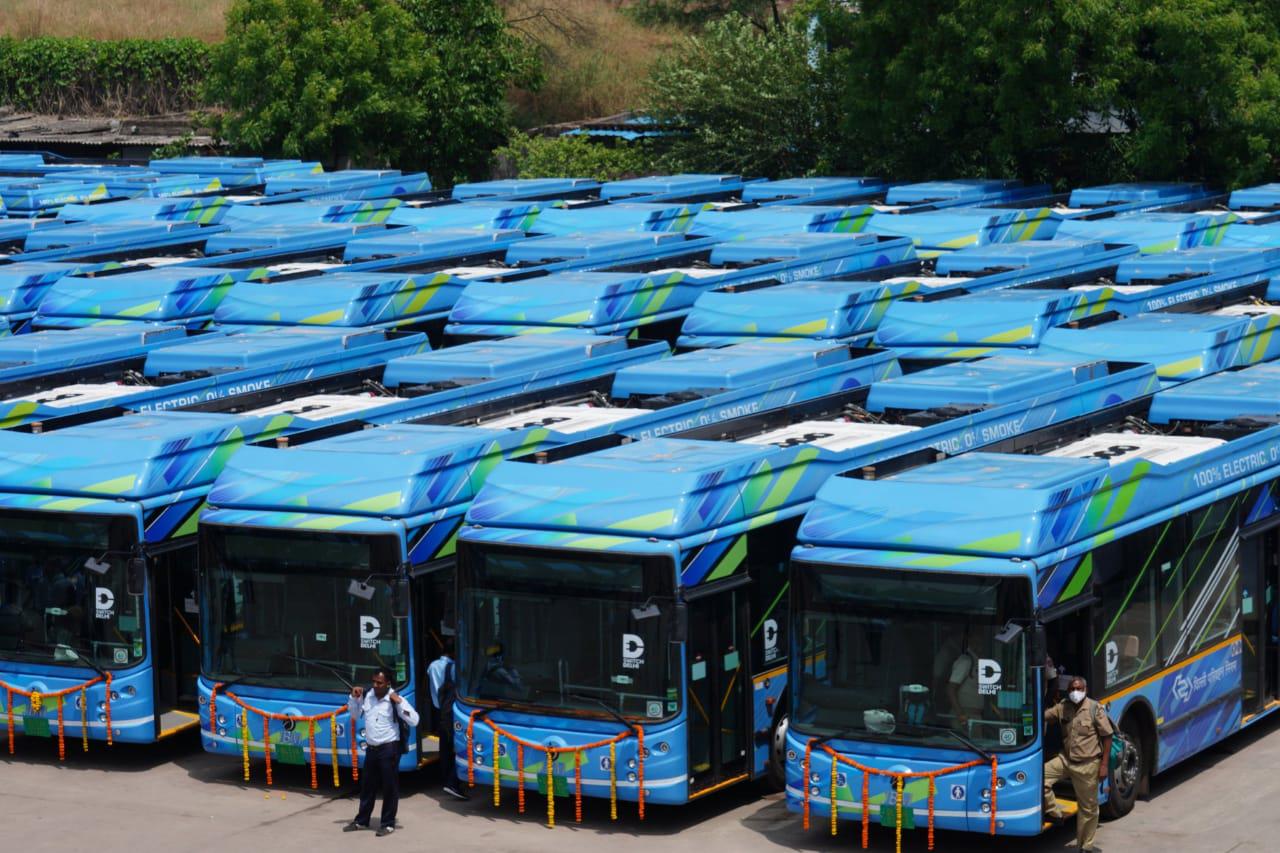 Delhi Transport Corporation (DTC) today achieved a major milestone by adding 150 electric buses to its bus fleet. This launch has marked the beginning of a new era in the transport sector, ushering in the age of zero emission Public Transport. The Delhi Government would further strengthen its fleet of electric buses to curb pollution on a large scale. With the addition of these buses on 24th May 2022, the total number of buses in Delhi has gone up to 7,205. At the same time, Delhi Government has built three electric depots in Rohini Sector 37, Mundelakalan and Rajghat-2 to accommodate electric buses. 150 more electric buses would be added by next month; Delhi to boast of 2,000 new e-buses and 600-700 CNG buses by next year.
The #IrideEbus Campaign
The Delhi Government has started the #IrideEbus Campaign to promote maximum adoption of electric buses by the people of Delhi. Under the campaign, the Delhi Government has organised a public contest which shall go on till 30th June 2022,  to promote its e-buses and encourage people to travel and experience these noiseless emission free buses. Along with the free rides for the first 3 days after the launch (24th-26th May 2022), Delhi Government has urged its citizens to ride its e-buses, take a selfie, and post it with the hashtag #IrideEbus on their Instagram, Twitter and Facebook handles. The top 3 entries will have a chance to win an iPad.
Electric buses with state-of-the-art safety features
The biggest feature of electric buses is that they are pollution free. In a 10 year lifespan, e-buses will save 0.16 million tonnes of PM-2.5 and 0.17 million tonnes of PM-10 CO2 compared to CNG buses. In addition, they are equipped with GPS devices, ramps for the differently-abled, panic buttons, CCTV cameras and other security related facilities.
Events
19 April 2022
3rd Delhi EV forum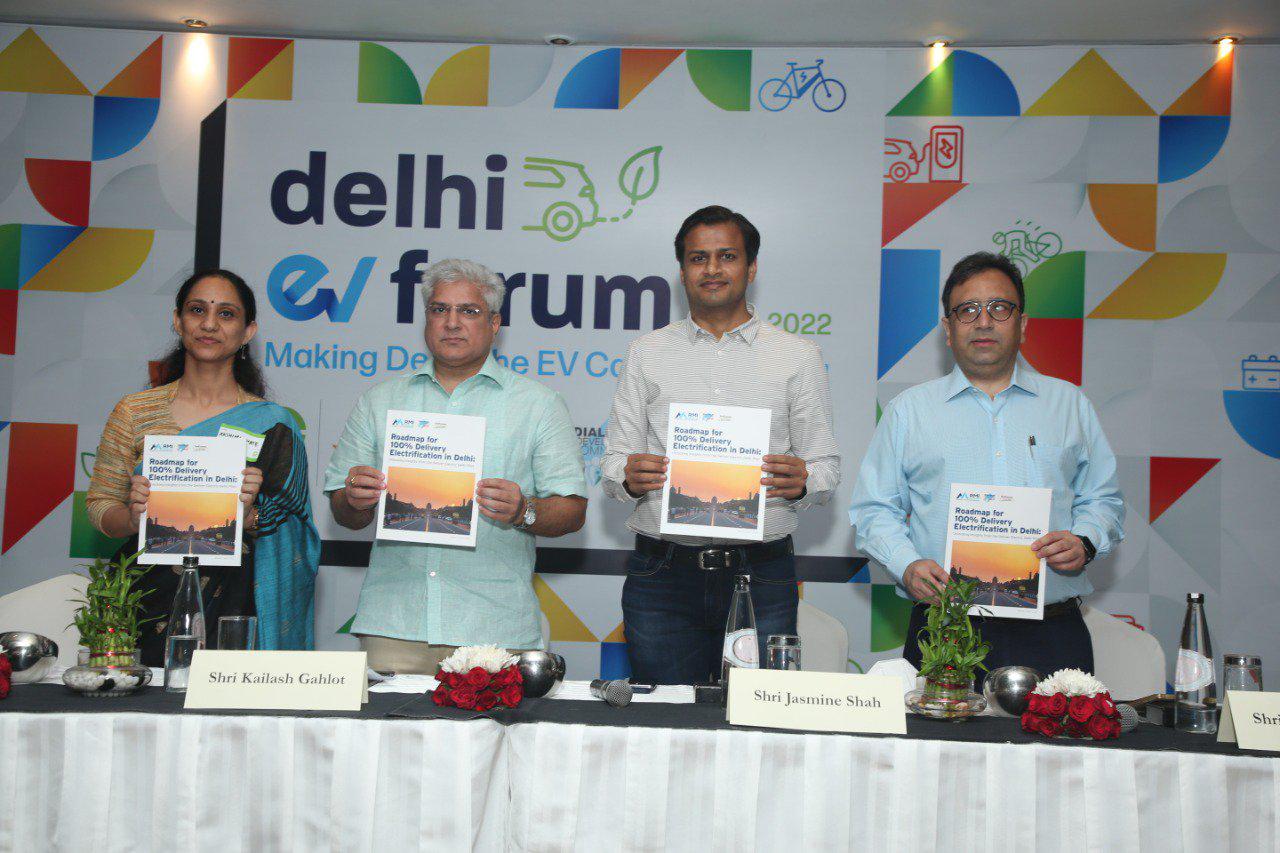 The Dialogue and Development Commission (DDC) of Delhi, in collaboration with RMI India, co-hosted the third Delhi Electric Vehicle (EV) Forum to facilitate constructive dialogue and discussions between the government and various stakeholders of the EV ecosystem. A roadmap for achieving 100% electrification of last mile delivery service fleets in Delhi by 2030 was also proposed by DDC Delhi, in partnership with RMI and RMI India, along with insights from the implementation of the Deliver Electric Delhi pilot project initiated in June 2019.
More than 130 participants attended the discussion from amongst Original Equipment Manufacturers (OEMs), charging infrastructure manufacturers and operators, mall associations, market associations, Resident Welfare Associations (RWAs), fleet aggregators, start-ups, academia and civil society. The forum saw participation from Shri Kailash Gahlot, Delhi Transport Minister, Mr. Jasmine Shah, Vice Chairperson, DDC Delhi, and senior government officials of the Delhi Transport Department such as Sh. Ashish Kundra, Principal Secretary-cum-Commissioner (Transport) etc.
The meeting focused on the following agenda items:
Implementation overview of the policy and key achievements by the Delhi Government
Launch of the Deliver Electric Delhi Report by DDCD and RMI India
The thematic discussion will focus on the following themes-
Accelerating adoption of EVs for last-mile delivery services
Role of commercial establishments/RWAs in promoting clean mobility through setting up of charging stations
Retrofitting technologies – Challenges and Opportunities
Events
31 March 2022
Launch of E-autos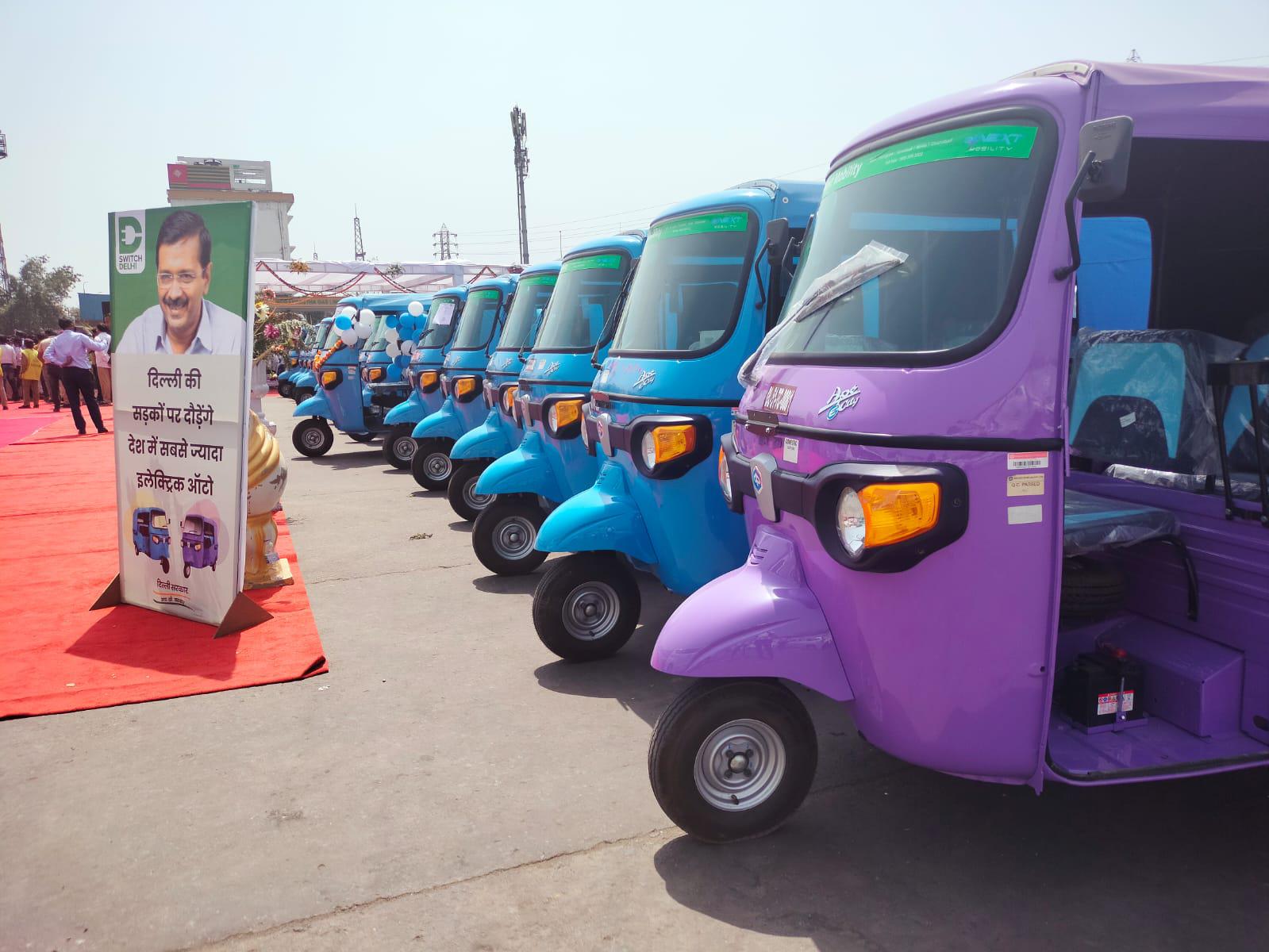 Chief Minister Shri Arvind Kejriwal flagged off electric autos at the IP Depot, with an aim that Delhi will soon have the highest number of e-autos in the country. During this event, dignitaries including Transport Minister Shri Kailash Gahlot, DDC Vice Chairperson Shri Jasmine Shah and Pr.Secy cum Commissioner Transport were present. Delhi Government is to incentivise and deploy 4261 e-autos on the streets of Delhi making it the largest fleet of e-autos deployed by a State Government in the country. These vehicles are zero-emission vehicles and can be very effective in ensuring clean last mile connectivity. Further, in order to encourage women empowerment, the State Government has reserved 33% of the permits, i.e., 1406 permits for the women drivers of the State. Blue electric autos for men and Lilac electric autos for women drivers will be seen on the roads of the Delhi now.
Events
11 March 2022
Launch of MYEV Portal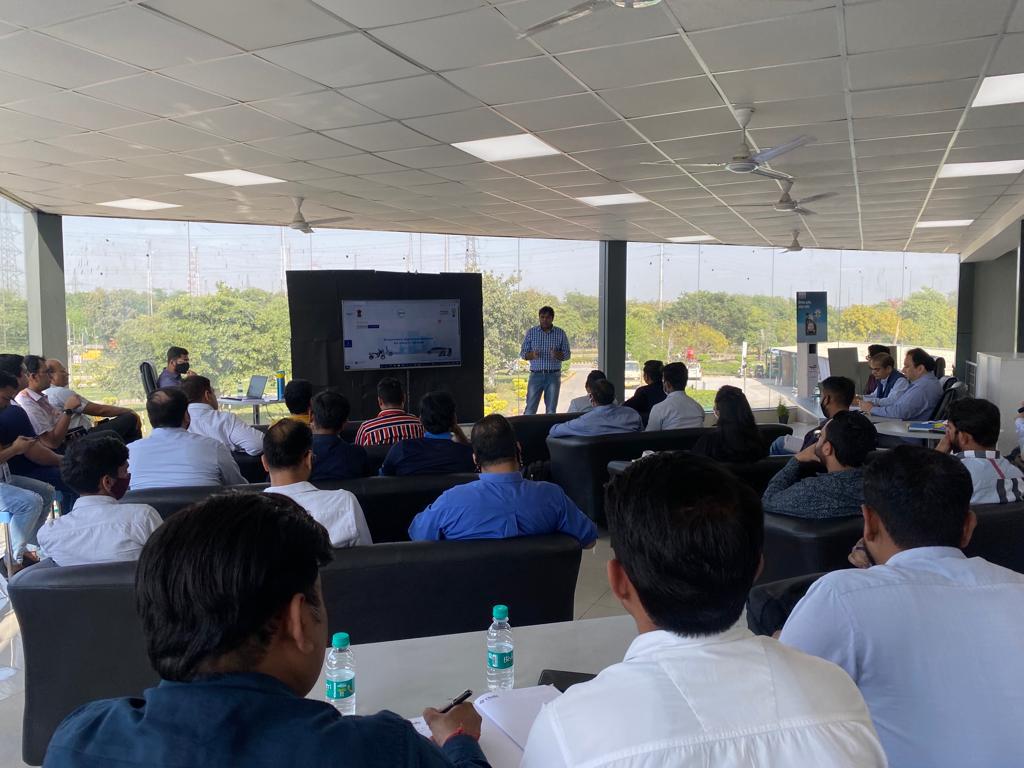 The Government of Delhi launched the 'MY EV Portal' to provide 5% Interest Subvention on purchase of electric auto rickshaws (e-autos) on loans under the Delhi Electric Vehicle (EV) Policy. This was done in collaboration with Convergence Energy Services Limited (CESL) with which the Dept. of Transport, Delhi Government had earlier signed an MoU to provide interest subvention to reduce the total cost of ownership of electric autos.
The 'My EV Portal' is an online portal which will enable the Letter of Intent (LoI) holders to purchase of the e-autos and claim the incentives provided by the Delhi Government.
With the launch of the 'My EV Portal' (https://www.myev.org.in/) which provides a single window for purchase, registration and financing of electric autos, the Delhi Government becomes the first state in the country to provide easy financing along with interest subvention on the purchase of EVs.
Events
25 November 2021
Interest Subvention Agreement for E-3W with CESL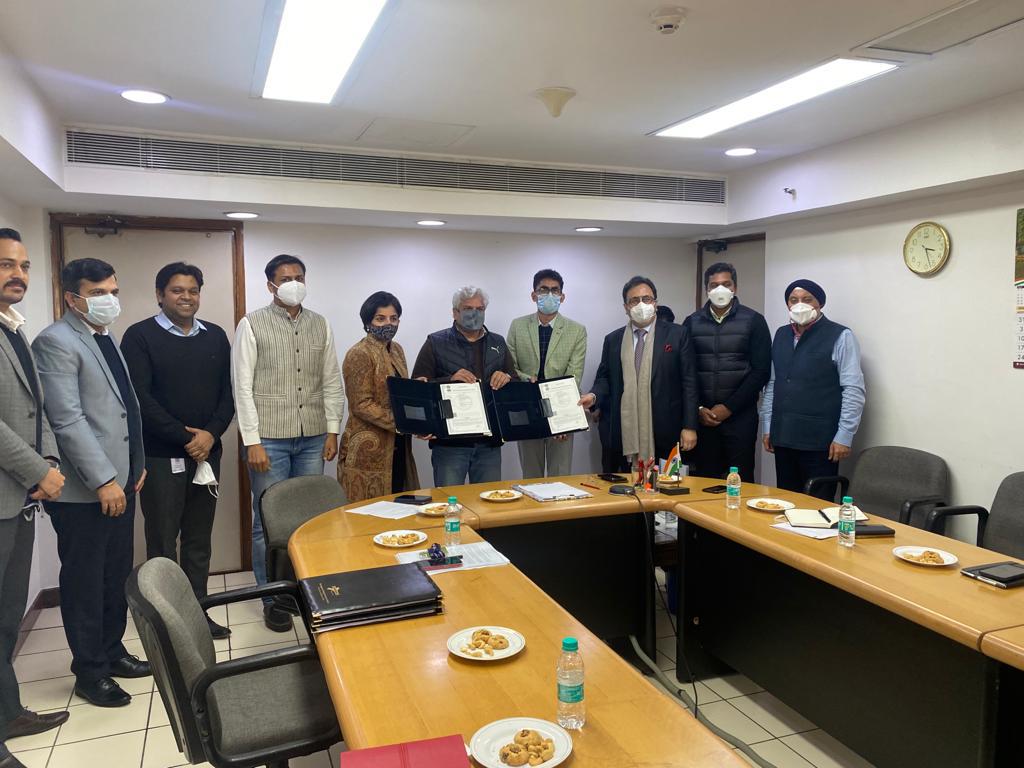 An agreement was signed between Transport Department of Delhi and Convergence Energy Services Limited (CESL) in the presence of honourable Transport Minister and Pre.Secy cum Commissioner Transport on 25th November 2021. As per Delhi EV Policy 2020, the buyers of financed electric vehicles are eligible for an interest subvention of 5% on loans obtained for the purchase of Lithium-ion battery operated electric three-wheelers including E- Autos, E-rickshaws, E-carts and Goods carriers. 
The 5% Interest Subvention on loans on the purchase of EVs is in addition to the applicable purchase incentive of Rs.30,000 and scrapping incentives of up to Rs.7,500 under the Delhi EV Policy. Through this scheme, an electric auto consumers will be able to avail up to Rs.25,000 additional benefit. Further, Transport Department has appointed EESL as sole and exclusive nodal agency under the Policy.
The Scheme is applicable for financing availed from CESL and through financial institutions (FIs) empanelled by CESL. CESL is a subsidiary of Energy Efficiency Services Limited (EESL) owned by Central Public Sector Units (CPSUs) under the Ministry of Power, Government of India. CESL is responsible to ensure the financing through Financial Institutions (FIs) empanelled by CESL in consultation with the Government of NCT of Delhi.
Campaigns
25 October 2021
Delhi, the e-auto rickshaw capital of India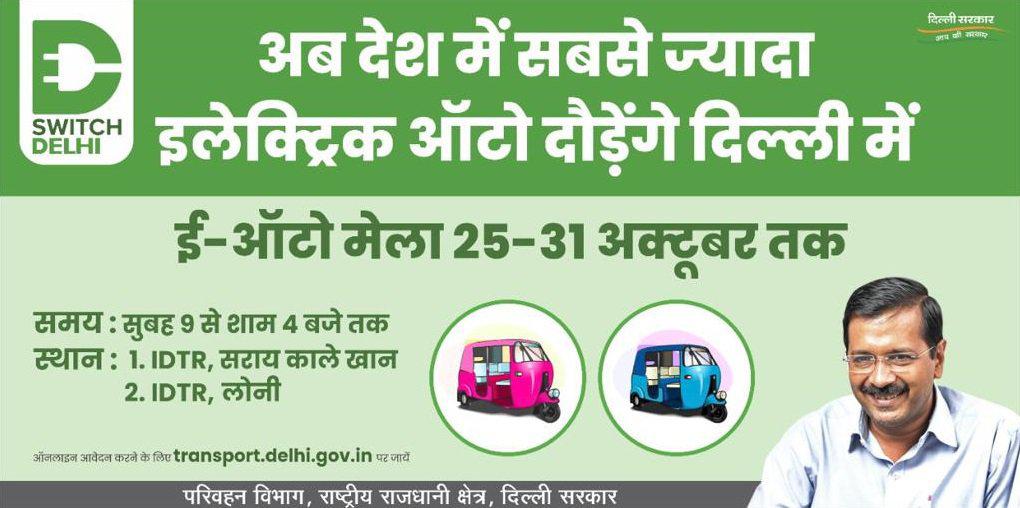 Delhi will become the first city in the country to have the highest number of on-road e-autos as registrations of 4,261 auto permits have been initiated.
Under the Delhi EV Policy, the Delhi Government envisages promoting the adoption of new electric autos ('e-autos') instead of ICE equivalents and simultaneously promoting the replacement of existing CNG autos by e-autos. In this regard, the Dept. of Transport of the Govt. of NCT of Delhi has implemented an open permit system for e-autos, wherein the remaining unallocated 4261 permits (out of 1,00,000 permits) shall be given on a first-come-first basis to applicants for electric autos. Moreover, to promote self-employment, 33% (i.e. 1406) of these total permits are reserved for women applicants.
To promote wide ownership of e-autos, a purchase incentive of Rs 30,000/- per vehicle shall be provided to the registered owner for the purchase of one e-auto per individual. In addition to the purchase incentive, the Delhi Government also envisages providing attractive loan terms to the consumer, which are expected to have a positive impact on the monthly earnings of the driver. A 5% interest subvention through Convergence Efficiency Services Limited (CESL), which is a wholly-owned subsidiary of EESL, or financial entities (like Scheduled Banks, NBFCs, and MFIs) empaneled by CESL, shall be available for e-auto drivers.
E-AUTO MELA
Further, to encourage and increase awareness about the product available among the potential drivers of e-autos, the Delhi Government organized an E-AUTO MELA at least 2 locations in Delhi.
The Mela was organized for a week (Oct 25-Oct 31) at Sarai kale Khan and Loni—IDTR between 9 am-4 pm, wherein the potential drivers could test-drive the vehicle and gather information about the applicable demand incentives. In addition to the various manufacturers setting up kiosks at the Mela, financial institutions (that is, Scheduled Banks and Non-Banking Financial Institutions (NBFCs)) also set up their respective kiosks to provide all necessary information regarding terms of the loan to these buyers.
Events
06 August 2021
2nd Delhi EV Forum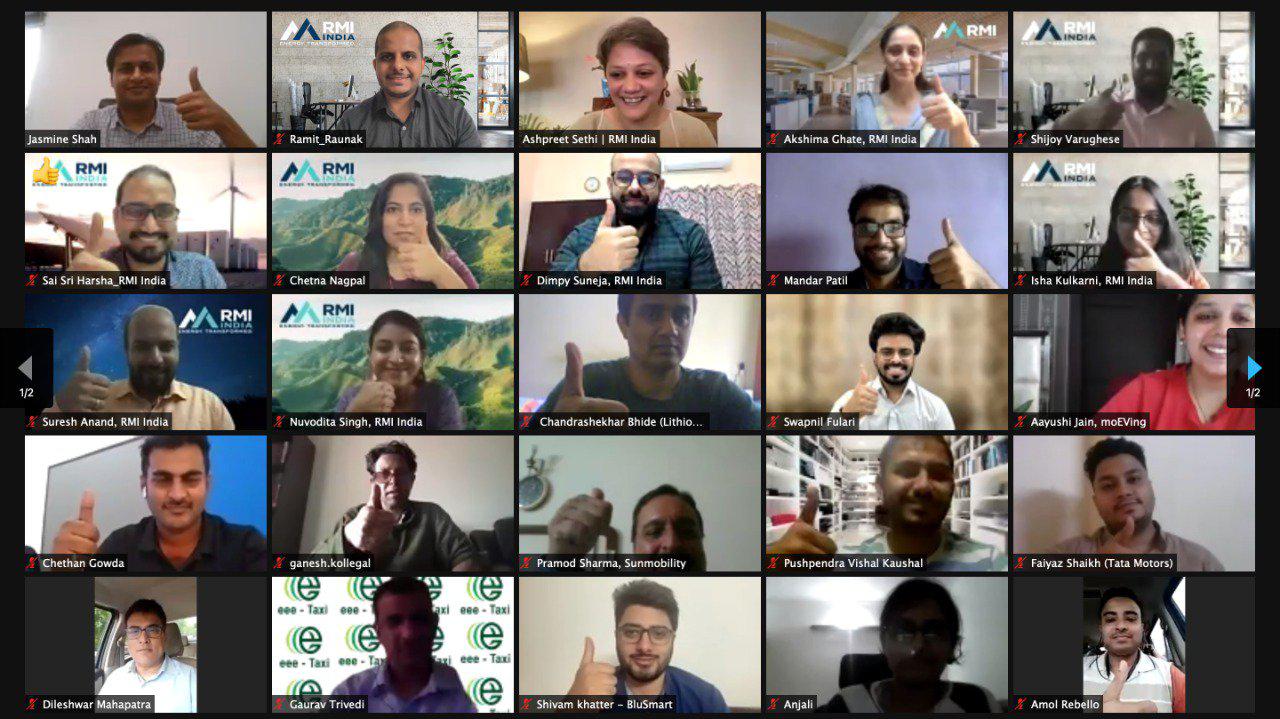 To ensure continuous dialogue and engagement of stakeholders in the implementation of EV policy, the Delhi Government has established the 'Delhi EV Forum' in partnership with RMI India.
The 'Delhi EV Forum' aims to provide a platform for continuous engagement with a broad set of stakeholders to implement the Delhi EV Policy through a series of quarterly meetings. Considering that the EV ecosystem is relatively new and still in the initial stages of development, consultations and stakeholder discussions are expected to prove crucial in the early stages of the implementation of the Delhi EV Policy. Therefore, think tanks, Civil Society Organizations (CSOs), Original Equipment Manufacturers (OEMs), Charging Infrastructure Providers, Fleet-aggregators, First and last-mile service providers, among other mobility service providers and government agencies would all be invited to participate in these workshops.
The Forum's first convening was held on December 18, 2020, attended by over 130 industry stakeholders, academia, think tanks, and other experts. The meeting followed the broad objectives:
Understand on-the-ground challenges towards deployment of EVs and charging infrastructure and identify potential solutions
Provide clarity related to any concerns and questions regarding provisions of the policy
Gain commitments from the private sector players to help achieve the EV and charging infrastructure targets defined in the policy
To mark a year's anniversary of the EV policy, DDC of Delhi with RMI India's support hosted the second convening of the Delhi EV Forum on August ,6 2021. More than 150 participants from the EV ecosystem attended and after reviewing their suggestions at the convening, the government has devised clear actionable points to make the policy implementation more effective.
In addition to the quarterly meetings, the Forum may conduct additional meetings that focus on specific issues and subjects related to policy implementation. The discussions through the Forum workshops will identify measures to establish Delhi as the EV capital of India.